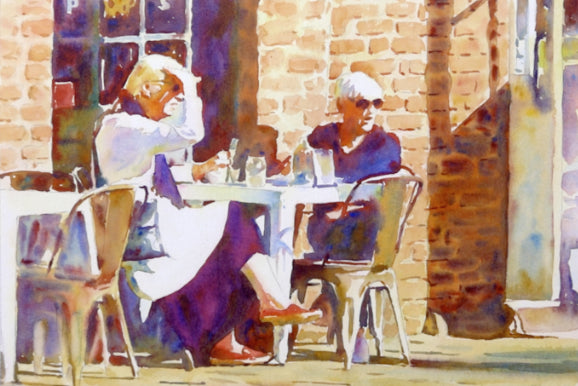 We're in Charleston, South Carolina, and we're outside the famous Poogans Smokehouse. This is a challenging and in depth painting that creates a wonderful finished painting worthy of anyones wall. I've broken it down in to several sections and we will work through it logically, Don't worry about counting those bricks in the background, I'll show you a great way to create the brick effect. It's a really fun painting that you'll really enjoy.
This week we're in France. This is a photo of my wife Pauline gardening on a trip to France a couple of years ago. This presents some challenges, it has some fantastic colours throughout, but we have to keep the painting balanced to create realism. It's a really fun painting to follow along with. We will use three colours initially and then progress to using all six to add details throughout, there's no blurred backgrounds, which means lots of detail, but I know you'll really enjoy this one.
This could be anywhere in the world, it's a painting of a couple holding hands walking down a promenade next to a beautiful blue and green sea. We use lots of colours in our shadows, whilst retaining the highlights using the white of the paper. Our background wash creates a grounding for our subjects feet through the use of the sunlight casting shadows and the lovely blurred background is created using wet in wet technique. It's a really fun painting that you'll really enjoy.